Feature: People Who HATE Barry Bonds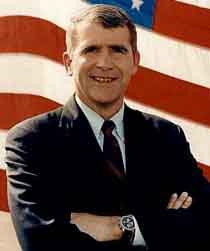 This is the first of a new feature called The People Who Hate Barry Bonds. That police guy in Indianapolis isn't a big Barry fan, but he's dead now so it really doesn't count. Our first Barry Hating Award Recipient is none other than
Oliver North
.
As you can probably tell from his website and FoxNews specials, etc., Mr. North is doing pretty well despite Barry, but it wasn't always so easy for him, e.g.
The Iran Contra Affair
. Ollie was pretty much the fall guy and on July 5, 1989 it all came to a head. It was on that date that he was sentenced by U.S. District Judge Gerhard A. Gesell to a three-year suspended prison term, two years probation, $150,000 in fines and 1,200 hours community service. It wasn't so much that Ollie was made a key public figure, but also the fact his family was put through all of this.
And what else happened on this date? Barry Bonds homers in Pittsburgh's 6–4 loss to the Giants, giving Barry and father Bobby Bonds the ML father-and-son home run record with 408.
Fortunately for Mr. North, this was still early on in Bonds' home run totals and therefore the Barry Tragedy Effect (or BTE) was minimal. A year later North was pardoned, but trust me he knows he got screwed when Barry went yard that day. Everyone knew North was the fall guy and really didn't deserve the criminal convictions.